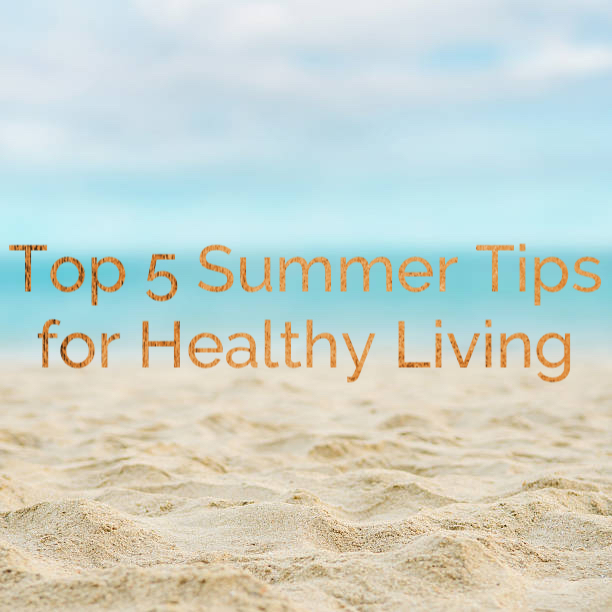 It's always fun to play in the summer sun, take a vacation, dig your toes into the sand and lay by the pool. Grill out, play at the dog park or enjoy a nice patio lunch. We could give you 100 tips to enjoy your summer, but today's focus is on our Top 5 Summer Tips for Healthy Living.
1) Hydrate. Hydrate. Hydrate – Your body is made of about 50% water. So keep drinking! Toss a little fruit slice in for some added flavor. We currently have a combination of orange, lemon and lime in our Summer Seasonal Water in our spas. Drink up! Your body and skin love the water. You can also hydrate your skin with products rich in anti-oxidants, like our Cocoberry Moisture Mask. Rich in chocolate and berries that pack an anti-oxidant punch, this masque is just what you need too boost elasticity, firm the skin, and deeply hydrate. Healthy skin is hydrated skin.
2) Sunscreen – Always protect your skin and lips with sunscreen. Even on a cloudy day, the suns rays can still penetrate. Burning your skin accelerates the aging process and puts you at a risk for melanoma. So keep your skin healthy and slather on that SPH when you step out into the sun. Tip #2 is really one that helps save you from future damage.
3) Fuel up to Play 60 – Fuel Up to Play 60 is an in-school nutrition and physical activity program launched by National Dairy Council and NFL, in collaboration with the USDA, to help encourage today's youth to lead healthier lives. Even though school isn't in session, be sure your family is eating proper healthy nutrition and getting out and being active at least 60 minutes a day. Balance vegetables and lean proteins with complex carbs. And spend some time together running through the sprinkler to stay cool while being active together.
4) Keep Your Skin Clean – A good face routine is important no matter the time of year, but our skin gets a little more beat up in the summertime. The sun shines year round, but we spend a lot more time soaking it up when the weather is warmer. Wash away the applied and reapplied sunscreen, sweat and daily grime every night before bed. Grab a cleanser like our Deep Cleansing Face Wash. Australian tea tree and Indian lemongrass help balance the natural oils in your skin that get out of whack with extended time in the elements.
5) Take a Mini Vacation – As nice as it would be to run off to Paris when the world seems overwhelming and you're more of a bus driver than a parent, it's much more reasonable to take a mini vacation to reset and focus on you. You can't take care of everyone else if you feel empty, so take care of you too. Try our Rainforest Body Wrap for a deeply relaxing, skin soothing hour. Or try our new Lavender Blueberry Foot Ritual with a hot stone foot massage. Whatever you choose, do something for you.
Summer is a great time for family, fun, sun, trips, relaxing and all-around enjoying life. But be sure you stay healthy and look out for your family and yourself.
https://spahabitat.com/wp-content/uploads/2018/07/Photo-Jul-17-11-59-33-AM.jpg
1199
1200
Spa Habitat
https://spahabitat.com/wp-content/uploads/2018/01/BlackLogoTrans354x156.png
Spa Habitat
2018-07-23 12:16:46
2018-07-23 12:21:09
Top 5 Summer Tips for Healthy Living